Alternative Comedy Legends
by Trevor Rogers
Exhibition ran 11 March - 30 September 2015
Rare images of iconic British comedians shot by award-winning photographer and filmmaker Trevor Rogers during the ground-breaking comedy era of the 1980's.
Trevor Rogers literally stumbled upon his archive of alternative comedy portraits when he recently moved studio. Boxes long sealed and stored were unpacked and among them were the rediscovered treasures about to be unleashed on the British public.
Moving studio does have its benefits joked Rogers. I've moved a few times over the years, but for some reason, this time I decided to open up a few crates. I couldn't believe it. I'd forgotten how much material I'd hidden away. It didn't seem right these British comedy giants should stay sealed up.
Rogers will reveal images of some of Britain's most iconic and influential comedians in the exhibition: Dawn French & Jennifer Saunders, Alexei Sayle, the much loved and sadly missed Rik Mayall (1958 - 2014), Ade Edmondson, Peter Richardson, Nigel Planer and Arnold Brown, all of whom featured in many landmark shows; all were pioneering risk-takers. Dominating the alternative comedy scene throughout the eighties they paved the way for a whole new generation of comedians.
A percentage of ticket and print sales raised during the exhibition were donated to Comic Relief 2015.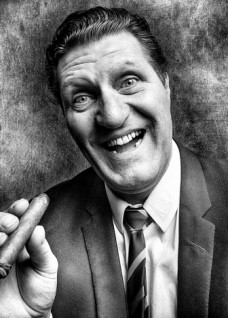 Tommy Cooper
by John Claridge
Exhibition ran throughout 2014
In 1967 I spent the most enjoyable afternoon with Tommy Cooper shooting portraits of the great man.
We introduced ourselves and I explained that I wanted to do some serious pictures of him. He didn't say a word; he just gave me that Tommy Cooper Look. I said to him, I am serious about this, do not make me laugh!
The session went very well with these sad and very serious photographs. He then said to me This is very serious ah-ha. From that moment the session changed its complexion entirely. For the next hour or so I couldn't stop laughing, as you can see by some of the portraits.
It was not just a memorable afternoon, but one spent with someone who was gracious and charming and, of course it goes without saying, one of the funniest men ever.
John Claridge Feb. 2014
John Claridge is an English photographer perhaps better known for his professional work in advertising.
John was born in London's East End in 1944. He began to take photographs at the age of eight with a plastic camera won at a local funfair.
After leaving school at fifteen and working as David Montgomery's assistant for two years, he opened a studio near St. Paul's Cathedral. John pursued a very successful career in advertising until recently, producing work for large corporations.
John's work is held in museums and private collections worldwide, notably the Arts Council of Great Britain, the Victoria & Albert Museum, the National Portrait Gallery, and the Museum of Modern Art.
He has published six books and in 1967 wrote, produced and shot a controversial short film, Five Soldiers, about the American Civil War, with implicit reference to the Vietnam War.