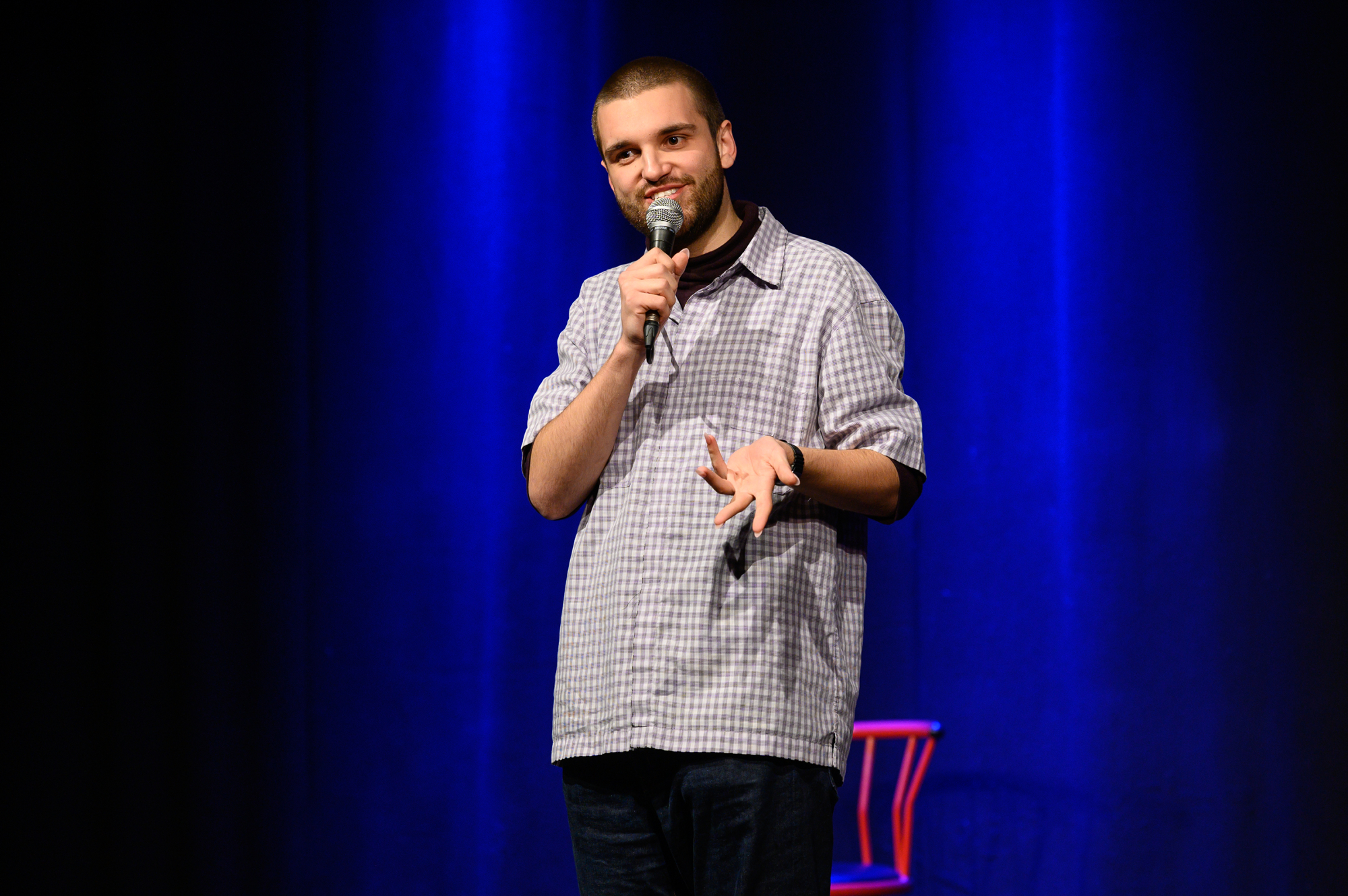 Leicester Square Theatre New Comedian of the Year
Over 300 acts compete for the title of New Comedian of the Year and a £1,000 prize in Leicester Square Theatre's hunt for the best new acts in the country.
Now in it's 14th year previous winners and finalists include Rob Beckett, Rachel Parris, Dane Baptise, Sofie Hagen, Tim Renkow, Jess Fostekew, Nigel Ng, Rosie Holt, Alasdair Beckett-King, Tez Ilyas, Viggo Venn and loads more…
Heats take place throughout the Autumn season at the Museum of Comedy, culminating in the final in the Main House at Leicester Square Theatre in December.
Entry Requirements
The competition is open to any non-professional act who's been performing for 5 years or less and entries from character acts, musical acts and sketch groups are welcome. The only restriction is that all contestants must stick to 5 minutes of material or risk disqualification.
ENTRIES FOR THE 2023 COMPETITION ARE NOW CLOSED


2023 dates
HEATS: Museum of Comedy
6 Sep: 8.30pm
9 Sep: 4pm & 8.30pm
10 Sep: 8.30pm
16 Sep: 5pm & 7.30pm
17 Sep: 5pm & 7.30pm
21 Sep: 8.30pm
22 Sep: 8.30pm
23 Sep: 5pm & 7.30pm
24 Sep: 5pm & 7.30pm
30 Sep: 5pm
1 Oct: 4.30pm & 7.30pm
7 Oct: 4.30pm & 7.30pm
8 Oct: 4.30pm & 7.30pm
13 Oct: 7pm
14 Oct: 5.30pm
15 Oct: 4.30pm & 7.30pm
QUARTERS: Museum of Comedy
26 Oct: 7pm
28 Oct: 5 & 8pm
29 Oct: 4.30pm & 7.30pm
3 Nov: 7pm
4 Nov: 4.30pm & 7.30pm
5 Nov: 4.30pm & 7.30pm
SEMIS: Museum of Comedy
18 Nov: 5pm & 8pm
19 Nov: 4pm & 7pm

FINAL: Leicester Square Theatre
3 Dec: 7pm
PAST WINNERS

2022
Winner: Will Owen
Joint Runner Up: Vidura Bandara Rajapaksa & Viggo Venn
3rd Place: Sarah Roberts

2021
Winner: Sam Nicoresti
Runner Up: Dee Allum
3rd Place: Dan Tiernan

2019
Winner: David Eagle
Runner Up: Josh Baulf
Joint 3rd: Lily Phillips & Luke Craig
2018
Winner: Sam Lake
Runner Up: Darran Griffiths
3rd place: Calum Stewart & Yumna Mohamed

2017
Winner: Mo Omar
Runner Up: Ali Woods
3rd place: Jack Gleadow
2016
Winner: Joby Mageean
Runner Up: Lewis Dunne aka Stanley Brooks
3rd place: Micky Overman

2015
Winner: ZakSplijt aka LJ Da Funk
Runner Up: Bilal Zafar
3rd place: Yuriko Kotani
2014
Winner: Joshua Ross
Runner Up: Don Tran
3rd place: Evelyn Mok
2013
Winner: Tim Renkow
Runner Up: Garrett Millerick
Joint 3rd: Alasdair Beckett-King & Amy Gledhill

2012
Winner: Funmbi Omotayo
Runner Up: Phil O'Shea
3rd place: Sofie Hagen

2011
Winner: Matt Rees
Runner Up: Richard Todd
3rd place: Adam Hess

2010
Winner: Tim Shishodia
Runner Up: Mark Stephenson
3rd place: Ian Smith

2009
Winner: Rob Beckett
Runner Up: Jim Campbell
3rd place: Tania Edwards & Sally Tatum

Other finalists include... Rachel Parris, Dane Baptiste, Tez Ilyas, Jess Fostekew, Olga Koch, Huge Davies, Nigel Ng, Janine Harouni, Joe Jacobs, George Lewis, Tom Ward, Bobby Mair, Harriet Kemsley, Sunil Patel, Jenny Collier, Lauren Pattison & many more...